Published on Thursday, 03 April 2014 02:21
Hits: 1619
In the forenoon of April 2, 2014, the opening ceremony of British Culture Center of SJTU was hold at the School of Pharmacy, Minhang Campus. Zhang Ansheng, Vice President of SJTU, together with Matt Burney, consul for Culture and Education from the Consulate-General of UK in Shanghai, unveiled the nameplate for British Culture Center of SJTU. Also at the ceremony were Professor Malcolm Bennett and Professor Zoe A. Wilson from the University of Nottingham, Yang Yi, Secretary of the Party Committee of School of Life Science and Biotechnology, SJTU, and Guo Liang, Deputy Director General of Division of International Cooperation and Exchange, SJTU. A delegation of overseas students from University of Cambridge and some representatives of teachers who has studied in U.K. attended the ceremony as well. The opening ceremony was presided by Zhang Dabing, Vice President of School of Life Science and Biotechnology, SJTU.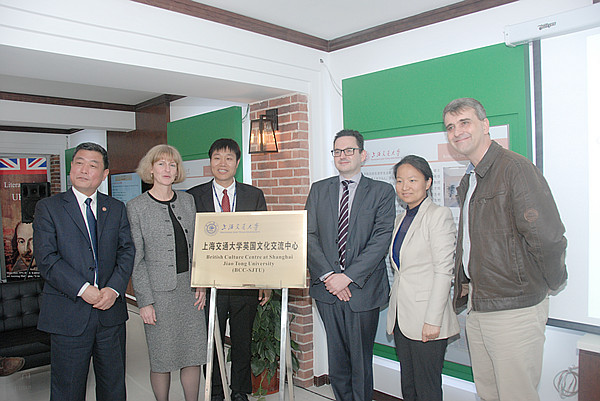 On behalf of SJTU, Zhang congratulated on successfully founding the British Culture Centre of SJTU.
Matt Burney was grateful for all the efforts SJTU has made in cooperating with U.K in the fields of Culture and Education. He said that as a consul, he would promote further cooperation between universities in China and U.K. in areas of culture and education.